President Thomas S. Monson, the 16th president and prophet of The Church of Jesus Christ of Latter-day Saints, died in his home in Salt Lake City, surrounded by his family, at the age of 90 on Tuesday 10:01 pm, Mountain Standard Time. As we mourn the recent passing of President Monson, we have been able to read and reflect on his life. This great man served as either an apostle or prophet of the Lord for 54 years. Out of all of the many things that have been or will be written and said about him, here are the three things that we think he will be remembered for the most.
President Monson Genuinely Cared for Widows
Many members of the church have heard about his remarkable calling as a bishop when only 22 years old, and the 84 widows that he cared for and served while in that capacity. Through his stories and the accounts of others, we were able to see how he listened to the spirit's promptings to help him reach out and serve others: visiting dying friends in a moment of need, giving his pet rabbits to a boyhood friend so that his family could have Thanksgiving dinner, and visiting nursing homes frequently, even in the midst of his many heavy responsibilities. The late President Boyd K. Packer said of him, "He visits [nursing homes] anytime his busy schedule permits, and sometimes even when it doesn't permit."
His love and willingness to serve others, and his gift for knowing how to do so through the spirit, was his hallmark, and one that inspires others to do the same, even after his passing.
President Monson Had a Sense of Humor… and Wiggling Ears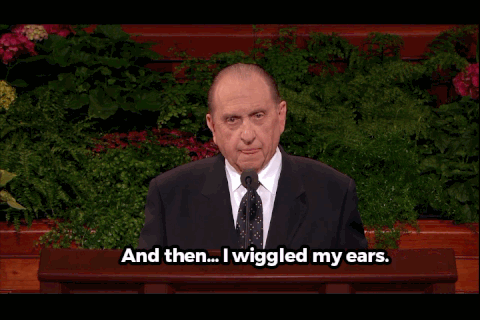 The fact that he could wiggle his ears at will was just awesome. The fact that he did it while on the stand to challenge a little copycat who was watching, was even more so, not to mention his demonstrating it for the world at General Conference. His comedic story telling always seemed to be a high point of conference, reminding us that there is humor to be found in all stages of life, and to always strive to keep a smile as you walk along the path.
President Monson Used Life Parables to Teach the Gospel
Perhaps one of the greatest things President Monson will be remembered for, is his unique perspective and ability to see spiritual applications in every day events. In 2013, he told about how he had once accidentally started a forest fire up by their cabin, turning that very public mistake into a lesson about the dangers of disobedience. Another time, he recounted his first Sunday in Navy boot camp, and the courage it took for him to stand, so he thought, alone in his faith, and how we can do the same, standing for what's right in an uncertain world. He routinely turned life experiences into beautifully told parables that touched hearts and inspired positive change all over the world, echoing in some ways the teaching style of the Savior.
As we remember the life and works of this great man, may we ever emulate his service, sense of humor, and ability to recognize life's lessons as we each travel our own path back to the presence of the Lord.