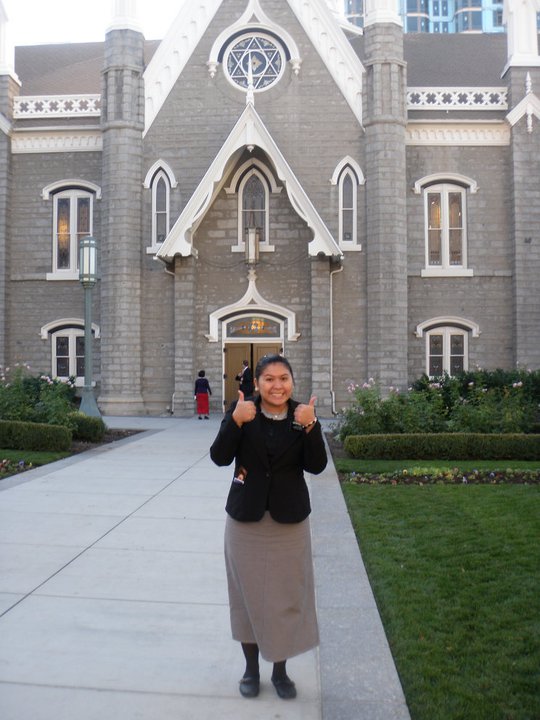 When people ask where I served my mission tapos I answer "California Riverside," the common response I get is "Wow, ang galing mo naman!" In my mind, I'm like… Whaaat?! Dahil foreign mission magaling na agad? But I understand. The idea of serving in a foreign mission is kind of… uhhhmmm amazing? The truth is, it's not a big deal. A mission is a mission no matter where you serve. It's HOW you served that really matters.
Maraming nagtatanong what it's like to serve in a different country and I usually say something like "masaya, masarap ang pagkain, malamig." It's probably because I really don't know what to say. If I share too much, people might think I'm bragging. If I say too little, then they might think I'm a snob. It's a lot safer to keep things simple. But for the fun of blogging, let me share a little more about what it's really like to serve in a foreign mission.
You're so slang.
The moment I got home, sobrang takot ako mag-Tagalog. It's not because I'm so galing mag-English and everything. It's just that I knew I would say things differently. Kasi ang totoo, when I served in California I really did my best to speak like everyone – with all the slang and stuff. Why? For SURVIVAL. Kasi pag mali ang bigkas mo ng words, hindi ka nila maiintindihan and you have to repeat yourself over and over again until ayaw mo nalang magsalita dahil sa hiya. That's why I had to learn to speak with an American accent. So please don't blame me or other RMs who served in foreign missions that we sound so maarte. We were just trying to blend in. Hahaha!
Think of it like this, pag may bagong American missionary na nagserve sa Pinas it's cute hearing them speak in broken Tagalog. You sympathize kasi bago palang. Pero pag one year na at broken Tagalog pa din, you wonder why they never learned to speak the language. Well it's the same with Filipinos serving in English missions. They really need to learn how to speak like everyone else for their own benefit and for those they're teaching.
Tumaba ka.
Just because I gained a lot of weight does not mean I served less. I blame it all sa mabait na Relief Society sisters na nagpakain sa akin (joke!). Gaining weight during my mission was a real challenge kasi ang serving size ay mas madami. Lalo na when you have dinner with members kasi they want to feed you a lot of food. Also, remember that their food is different kaysa dito sa Pinas. Maraming milk, cheese, potatoes, and meat. At kapag konti lang kinain mo, magtatampo sila. So kain lang ng kain. Bili nalang ng bagong skirt pag di na kasya.
Ganun din dito sa Pinas diba? Members love having missionaries sa bahay and it's natural to go the extra mile and prepare a special meal for them. So isipin mo nalang na kung everytime may dinner appointment ang missionaries ay may special food for them… sino hindi lalaki diba?
Ano yung mga places na napuntahan mo?
I think the best places I visited during my mission is the temple and the mission home. Other than that, iba't-ibang klaseng bahay lang ang nakita ko. May malalaking bahay sa magandang subdivision, may mga lumang bahay na nakakatakot, and meron din mga apartment sa kaduda-dudang neighborhood.
As a missionary, hindi ka naman kasi pwede gumala kung saan saan. The only "break" you have is during preparation day and even then sobrang busy mo pa din sa paglalaba, email, mamalengke, etc. Pag may mga zone activities naman, usually hiking so gubat naman ang makikita mo.
There's so many things I could tell you about serving in a foreign mission. Pero one thing I hope you'll remember is that it's not really a big deal like everyone thinks it is. Yes, it is exciting kasi ibang bansa, but you'd feel the same excitement if you serve locally kasi your decision to go on a mission was never about the place. It was and always will be about your love for the gospel and your desire to share it with others.