Elder Jeffrey R. Holland said, "If you try to be the best parent you can be, you will have done all that a human being can do and all that God expects you to do."
Motherhood may be the most challenging job you can offer to a person but it is the most rewarding experience I have had in this mortal existence. I am now 26 years old and have two kids. Every single day is a journey. The duties and responsibilities are sometimes overwhelming but it teaches me great lessons each time I struggle. For the two years I have been a full-time mom, I've learned how to look outward so much more than inward.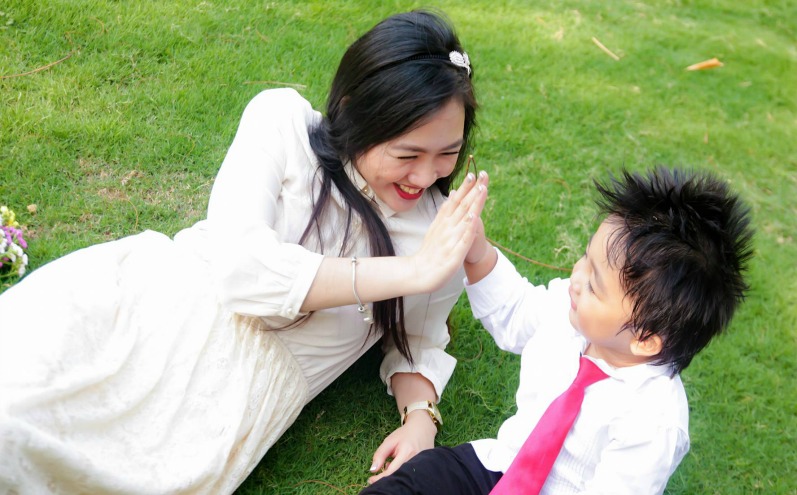 From the moment they wake up until the very time that they close their eyes to sleep, mothers think about their children and their family. I think that this helps me to be much more caring to others as well. My role as a mother teaches me how to be more loving, patient, forgiving, kind and understanding. It also teaches me not to judge but to serve and be grateful, to give more than I receive.
Just recently my dad and my sister-in-law got sick and there was no one to take care of my nephew. After hearing the situation I was worried about how my nephew and my nieces were doing. So I called around to find anyone that I could talk to about the situation. Finally, I got the chance to talk to my sister and found out that the kids were alright. The words automatically came out of my mouth, "Faye, I am grateful for your help and that you are there for them. I don't know what [would have] happened without you. I know we don't say how much we appreciate you but I want you to know that I am very grateful for your presence." After that conversation, I realized that my experience being with my children has changed my outlook. It helps me to be much more sensitive to the feelings of others. It is indeed true that motherhood is an eternal partnership with God. Mothers will do everything within their power to take care of His children that have been entrusted to them and He promises His continual help in return.
I love what Elder Holland stated in his tribute to mothers, "Mothers, cherish that role that is so uniquely yours and for which heaven itself sends angels to watch over you and your little ones. Yours is the work of salvation, and therefore you will be magnified, compensated, made more than you are, better than you are, and better than you have ever been".
I believe that being a mother is not a vocation but it is a noble calling from above. I am not even close to being perfect yet, but I've seen how it changes my whole life. I love being a mother and I know that I accepted this calling even before I was born. I am and will be forever grateful for the Lord's trust in me.