I'm always fascinated when I hear about the conversion stories of members of the Church. I like hearing about how they were introduced to the gospel and their journey of receiving a personal testimony of its truthfulness. I've heard so many conversion stories and each story is unique. For some, accepting the gospel was an easy decision, for others it took more time and several sets of missionaries. But no matter how different each story is, one thing that is similar to all converts is the happiness that comes with the decision of being baptized.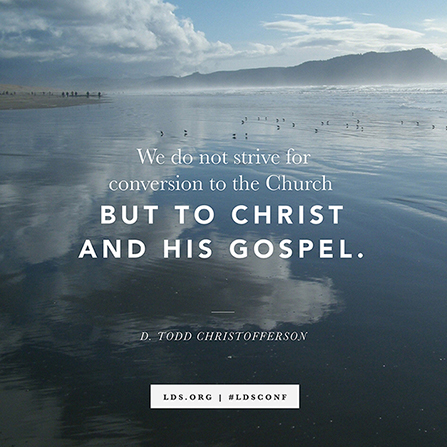 My parents accepted the gospel before I was born, so I grew up a Mormon.  It was easy to believe and accept everything I've been taught my whole life and do the things Mormons do like going to seminary and not drinking coffee, etc. It all becomes second nature. However, there came a time when I started to ask questions and I started to wonder. And it was during that time that my own conversion story began.
My conversion story is very simple. It started when I began to read the Book of Mormon. Unlike other conversion stories I've heard, mine did not involve missionary visits or dreams or visions. I gained a testimony of the gospel as I read, pondered, and prayed about the Book of Mormon and that testimony grew as I kept the promises I've made with the Lord. There's nothing dramatic about my story, but it's as life changing as everyone else's. It has strengthened me during challenging times and has brought comfort when everything in life looked bleak. The power of one's conversion is not measured on how it happened, but on how it has changed one's life.
Though our conversion stories differ, all members of The Church of Jesus Christ of Latter-day Saints have received a testimony of the gospel of Jesus Christ and that is the reason why we continue to live our faith. It is the reason why we do the things we do. It has brought great happiness to our lives and that's why we want to share it with others.