When Elder Oaks visited the Philippines last year, he reminded all single adults to make marriage a priority. Sabi niya, hindi kailangan ng magarbong celebration. The most important thing is the ordinance performed inside the Temple.
Somehow, as Filipinos, we feel na it's our responsibility to have a big wedding. We are greatly influenced by our culture and what is socially expected sa weddings. It is hard to break the norm, but, as Latter-day Saints, aren't we used to doing just that?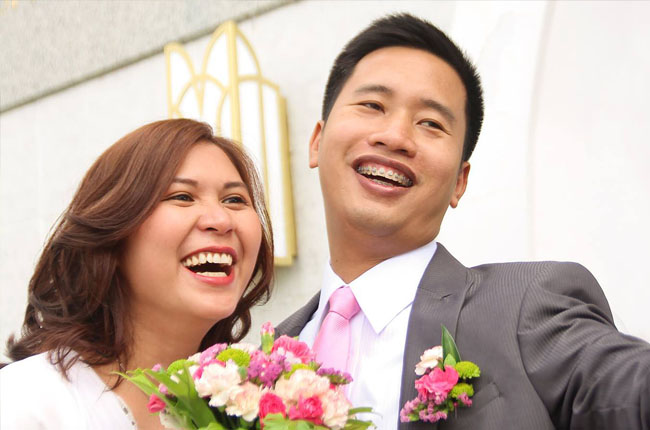 A friend recently asked me kung magkano ang kailangang budget para magpakasal. Sabi ko sa kanya, hindi magastos ang wedding ceremony. License lang ang babayaran kasi libre naman magpakasal sa temple. The financial burden of getting married comes from the "extras." Yung gown, photography, reception, etc. Kung sa ceremony lang, you only need about PHP 1,270 to get married.
Couples need to submit 3 requirements to be sealed inside the temple: marriage license, living ordinances, and temple recommends. Out of these requirements, yung marriage license lang ang kailangan bayaran. To get the license, couples need to submit:
Certificate of No Marriage/CENOMAR: PHP 430
If you're going to get it sa SM Business Centers, each certificate costs PHP215. You will get it after 14 business days.  Another option is getting it from the NSO. Mas mura at mabilis makuha ang certificate, pero maraming tao.
Community Tax Certificate/Cedula: PHP 110
It's best to get your cedula at the beginning of the year para walang late penalty. The cost of the cedula depends on your monthly income. The basic cost is PHP 55 for those who are unemployed.
If you get your picture taken at malls, it's usually about PHP 80 per person. But I think there are cheaper ones  sa mga "rush ID" stalls.
Birth Certificate: PHP 320
Same with getting a CENOMAR, you can opt to get it at the NSO or sa SM Business Centers. Each Certificate costs PHP 160.
Application form and processing fee: PHP 250
You'll have to pay this at the City Hall to get your application form.
Note: You also need to attend a seminar to be issued a license and walang bayad yun.
As a Latter-day Saint, we are taught to live within our means. We are also taught that we should not postpone marriage until after we are "settled" or "stable." There is wisdom in this counsel. While preparing for my wedding, I learned to prioritize the things that matter most. It was a great experience for my fiancé and me to talk about the things that were important to both of us. It was also a perfect opportunity to discuss our financial goals. I learned that what really mattered to my fiancé (and I think this is true to most guys out there) is that he was marrying me in the temple, and that can happen with or without the celebration. I also learned that determining the budget should not be restricted on the ceremony and the celebration alone, mas mahalaga yung mga expenses after the wedding like bahay, mga gamit, etc.
If there is anything I gained from my experience, it would be this:  You do not have to postpone getting married just so you can have a big wedding celebration. That is what our leaders teach us and we will be blessed when we obey. Besides, when you finally meet the person you want to marry, there's no reason to delay your happily ever after.