Maraming rason kung bakit nagmimission ang mga members ng The Church of Jesus Christ of Latter-day Saints (aka Mormons). If you ask them why they go on missions, some of their responses might include:
I want to serve people.
I am a convert and I feel na responsibility ko na ishare din sa iba ang gospel.
I grew up a Mormon and I've always wanted to go on a mission.
Going on a mission will help me become a better husband/wife.
It was something I needed to do. Na-feel ko na it was time.
I love the gospel and gusto ko ishare sa iba para maging masaya din sila.
A line in my patriarchal blessing talks about going on a mission.
I came from a family of returned missionaries. Nagmission ang mama at papa ko.
… at marami pang iba.
Different experiences and feelings influence members na mag-mission. Pero ang isang reason kung bakit talaga nagmimission ang mga Mormons ay dahil commandment ito ng Diyos. Mark 16:15 states, "And [Jesus] said unto them, Go ye into all the world, and preach the gospel to every creature." It also states in Matthew 28:18-20, "And Jesus came and spake unto them, saying, All power is given unto me in heaven and in earth. Go ye therefore, and teach all nations, baptizing them in the name of the Father, and of the Son, and of the Holy Ghost: Teaching them to observe all things whatsoever I have commanded you: and, lo, I am with you alway, even unto the end of the world. Amen." With that invitation from the Savior himself, what else are we supposed to do? We must obey.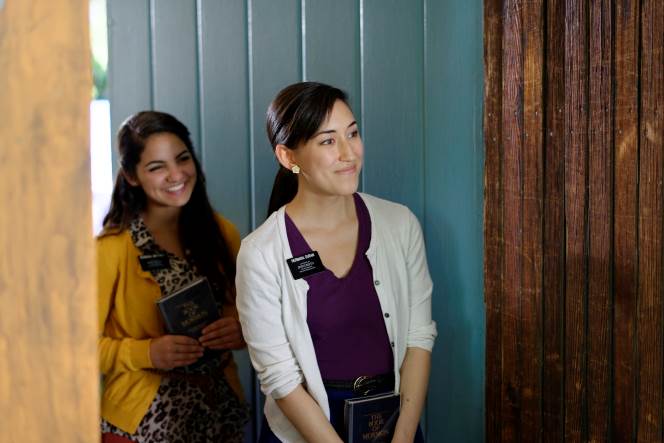 Although one's motivation to go on a mission may differ from others, all Mormon missionaries share the same purpose of inviting others to come unto Christ. We understand what the Savior expects of us and we do whatever it takes to fulfill our duty. Leaders of the Church also reminds us of this sacred responsibility. They have repeatedly talked about the urgency and need for male members to prepare and serve as full-time missionaries.
President Howard W. Hunter taught, "Earlier prophets have taught that every able, worthy young man should serve a full-time mission. I emphasize this need today" ("Follow the Son of God," Ensign, Nov. 1994, 88).
President Gordon B. Hinckley said, "I say what has been said before, that missionary work is essentially a priesthood responsibility. As such, our young men must carry the major burden. This is their responsibility and their obligation" ("Some Thoughts on Temples, Retention of Converts, and Missionary Service," Ensign, Nov. 1997, 52).
Now for female members of the Church, the First Presidency counseled that "Worthy single women… may be recommended to serve full-time missions. … These sisters can make a valuable contribution …, but they should not be pressured to serve. Bishops should not recommend them for missionary service if it will interfere with imminent marriage prospects."
So, to answer the question on why Mormons go on missions… we go on a mission as a response to the Lord's commandment to preach His gospel. Pero hindi ibig sabihin na we do it just because we're commanded to do so. The decision to serve a full-time mission comes from our love for the Savior and our desire to serve Him.