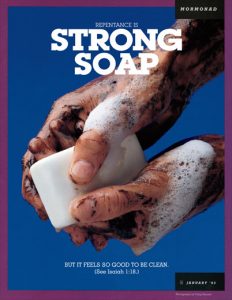 What does it feel when your hands are dirty? Or your house messy? Or your food contaminated? Some may feel discomfort, dissatisfaction and sometimes pain. And worse, if not cleaned, organized or sanitized might lead to sickness or accidents. Likewise, sin has the same effect on us. Sin negatively affects us both temporally and spiritually. Because we are imperfect beings, we all sin. And when we sin, we feel unhappiness, sorrow, guilt, embarrassment and loss of confidence. Thankfully, there is a way provided by which we can be free from sin and all of the negative feelings that come with it.
What is Sin?
Our loving Heavenly Father gave us commandments so we can be happy in this life and in the life after. Sin is the consequence of not following Heavenly Father's commandments. We also sin when we know what we should do and neglect to do them (James 4:17). For example, we know that we should be baptized, pray, read the scriptures, forgive, serve others, to name a few, and then fail to do them, we sin.
God does not change. He is the same yesterday, today and forever. His commandments do not change but people do. Our moral laws may change over time but God and His commandments stay constant.  Knowing what the commandments are can help us avoid sin.
How Can We Avoid Sin?
1. Learn the commandments of God
God gives us the scriptures, living prophets and the Holy Ghost to guide us in this life. The scriptures contain laws that we need to obey. God will judge us according to these laws written in the scriptures (2 Nephi 29:11). God inspires prophets to record His words and God continuously speaks to us through the prophets. God reveals truth to the prophets through the Holy Ghost.
The Holy Ghost is a member of the Godhead and is a testifier of truth. He works in perfect unity with the Father and Jesus Christ. The Holy Ghost is given to us to guide us in this life. He will tell us what is right and will warn us so we can avoid temptation and sin.
2. Seek and follow the will of God
God desires the best for each one of us. He created a perfect plan for us. In order for us to know His will, we need to constantly communicate with Him through sincere prayer. When we pray, God's desire for us becomes clearer. Knowing God's will helps us choose the right and follow His commandments. Prayer helps us avoid temptation and sins. Jesus Christ taught:
"Behold, verily, verily, I say unto you, ye must watch and pray always lest ye enter into temptation; for Satan desireth to have you, that he may sift you as wheat" (3 Nephi 18:18).
3. Focus Our Lives on Jesus Christ
Jesus Christ is our best example of a Son who obediently follows God's will. He is the light that guides us in our lives. When we focus our thoughts on Him, we will always be filled with good thoughts and our desire to do the right will increase. When our foundation is strongly fixed in Jesus Christ, we will be able to avoid sin even when Satan does everything to tempt us (Helaman 5:12).
One way of remembering Jesus Christ is by attending church. During sacrament meeting, as we eat the bread and drink the water, we remember Jesus Christ's sacrifice for us. When we take the sacrament, we show Heavenly Father that we are willing to follow Jesus Christ (3 Nephi 18:7,10). We are reminded of our promise during our baptism. We reflect on what happened during the past week, repent of what we did and promise to avoid sinning again. Also at church we talk about how we can improve our lives as well as others (Moroni 6:5-6). At church we are inspired through the lessons prepared by our teachers and experiences shared by others.
Becoming Clean through Forgiveness
"… though your sins be as scarlet, they shall be as white as snow; though they be red like crimson, they shall be as wool." Isaiah 1:18

"Behold, he who has repented of his sins, the same is forgiven, and I, the Lord, remember them no more." Doctrine and Covenants 58:42
We are all children of our Heavenly Father and we have the potential to be like Him. On the other hand, Satan will do everything to prevent us from reaching this potential. He wants us to become miserable like him. We are not perfect however, we are responsible for all our choices and our actions. Sin draws us away from God while repentance moves us closer to Him.
When we fall short, we can rely on the Atonement of Jesus Christ. He suffered for us both in Gethsemane and on the cross so we can be forgiven (Isa. 53:3–12; Mosiah 3:5–11; Alma 7:10–13). And when we repent sincerely, God will not remember our sins anymore (Isaiah 1:18, D&C 58:42). Although we can be forgiven, the process of repentance is not easy. However, the pain of previous sin and guilt can be overcome by the joy and peace that repentance brings. (Alma 36:12, 18-21). Sometimes sin can result in physical consequences and we must take responsibility for our actions, so although we can be forgiven, it is wiser to avoid sin if possible.
God gave us the ability to choose for ourselves. If we choose now to avoid sin, we will not have second thoughts when temptations of the devil come. And when temptations come, we should do everything to stay away from it (James 1:12-15). Temptations are all around us but it is possible for us to avoid sin and to have real joy and happiness in this life.