Sacrament Meeting is a Mormon Church service. It's when members living in a specific area gather together to partake the sacrament, learn about the gospel, and fellowship each other. Attending sacrament meeting is part of a Mormon's Sabbath-day observance. For most countries, sacrament meetings are held on a Sunday. This may vary in countries where Sabbath is observed on a different day.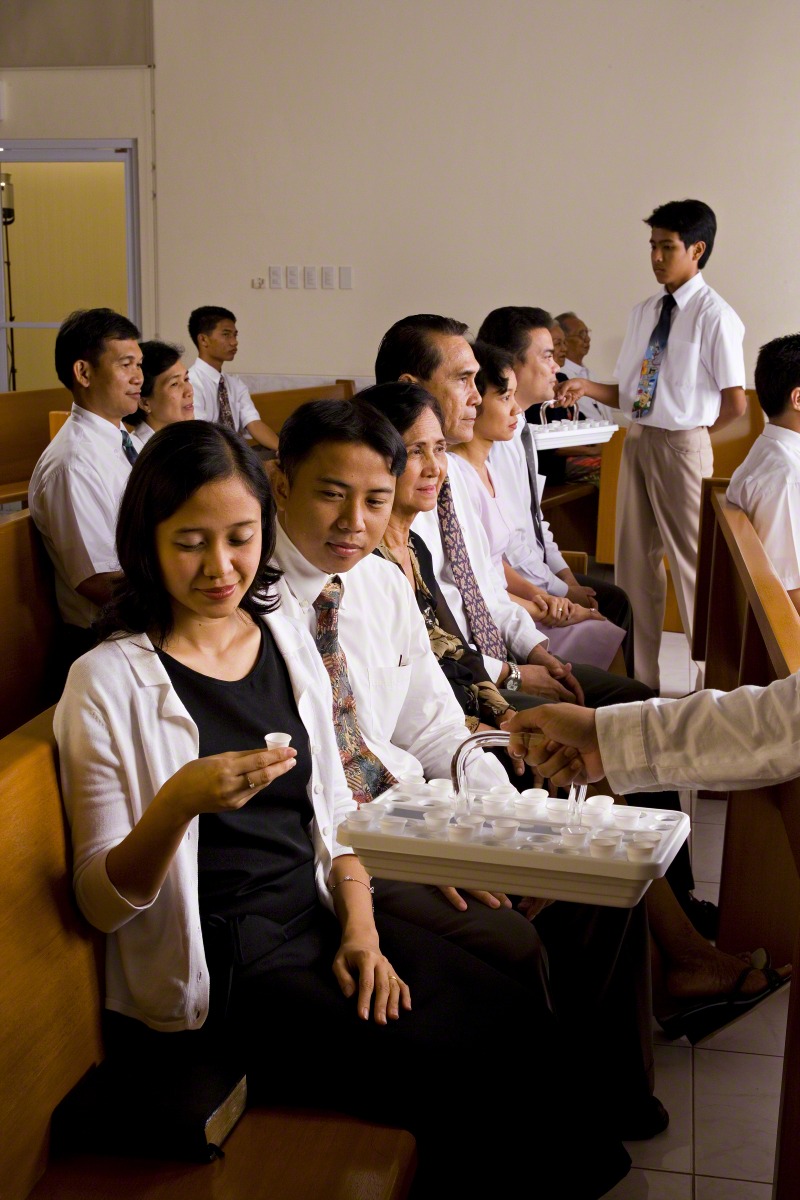 In Doctrine and Covenants 59:9-10, the Lord commanded: "That thou mayest more fully keep thyself unspotted from the world, thou shalt go to the house of prayer and offer up thy sacraments upon my holy day; for verily this is a day appointed unto you to rest from your labors, and to pay thy devotions unto the Most High." Aside from attending sacrament meeting, members of the Church strive to keep the Sabbath day holy by participating in activities that invites the Spirit.
A typical Sunday at Church is 3 hours. Though it may sound pretty long, it actually goes by really fast. The service is divided into 3 parts: sacrament meeting, Sunday school, and general classes.
Sacrament meeting is the most sacred part of the Sunday service. It is when members renew their covenants by partaking of the sacrament. Other purposes of the sacrament meeting are to worship, provide gospel instruction, perform ordinances, conduct ward business, and strengthen faith and testimony (Handbook 2: Administering the Church).
Sunday school is divided into adult and youth classes. A specific curriculum is taught which is synchronized throughout the entire Church. For 2016, the curriculum is the Book of Mormon. Sunday school classes provide opportunities for members to learn more about the gospel and deepen one's knowledge and testimony.
The 3rd hour is divided into different classes for the Priesthood, Relief Society, Youth, and Primary. Priesthood class is attended by men ages 18 and older while Relief Society is for women 18 and above. The youth have their separate classes and so does the primary which is for children ages 11 and below. These specific classes are meant to help each group according to their needs.
Sunday meetings are meant to help individuals strengthen their relationship with the Lord and renew their spiritual strength. Interested individuals are invited to attend our Sunday meetings. It is a great way to feel the Spirit and learn more about the gospel. Another blessing is that it provides an opportunity to fellowship with members of the Church.
In Elder Dallin H. Oaks' talk Sacrament Meeting and the Sacrament, he said: "By participating weekly and appropriately in the ordinance of the sacrament we qualify for the promise that we will "always have his Spirit to be with [us]" (D&C 20:77). That Spirit is the foundation of our testimony. It testifies of the Father and the Son, brings all things to our remembrance, and leads us into truth. It is the compass to guide us on our path." This is the reason why Mormons consecrate 3 hours of their time on Sundays to participate in a sacrament meeting.