Cinderella.
Beauty and the Beast.
Tarzan and Jane.
Sleeping Beauty.
These animated movies were my favorite growing up. Through them, I learned the concept of a 'Prince Charming' and 'Knight in Shining Armor'. Even at such a young age, I knew that I also wanted a 'once upon a time' and 'they lived happily ever after' kind of story. I would try on my mother's flowy dresses and dance while imagining someone sweeping me off my feet.
It wasn't long until I met someone who would be very close to my heart for eighteen years. Our relationship was the typical story of friends eventually falling in love. We saw each other grow and change through the years—cheering and being there for each other for every milestone and struggle of teenage, student, and career life. It was that kind of love that no matter how far apart you are or how long it's been since you've seen each other, you just know that you belong together.
Because of our busy careers, we didn't keep in touch as often as we wanted. We would call and exchange emails once in a while, but our focus was achieving our career goals. In my heart, I knew that when we saw each other again, we would be able to pick up where we left off. After all, it was a friendship, connection, and love that had been going strong for eighteen years.
He managed to fly to the Philippines to see me one summer. I thought that it was the perfect time to talk about where our relationship was headed. We'd devoted many years to building our careers, so it was time to give ourselves time to be together.
"I got married…for over a year now."
I pinched my hand under the table to make sure I wasn't dreaming, and to my horror, it wasn't a dream. I held my tears back I almost choked. I never really knew what heartbreak was like until then. All my dreams and hopes of a happily ever after were shattered.
The following days were filled with questions, sadness, self-doubt, anger, regret, disappointment, self-pity, and other myriad emotions that laid my tender heart to waste. Days turned into weeks and weeks into months. Moving on seemed impossible. It felt like that young love, that has grown for so long, was impossible to replace or replicate.
And yet I was repeatedly reminded of Spencer W. Kimball's talk on marriage. He said, "…it is certain that almost any good man and any good woman can have happiness and a successful marriage if both are willing to pay the price." I knew that it was the Lord reminding me that my desire to build a family of my own didn't have to end with my heartbreak.
Yes, it was painful, but the Lord knew my pain and how to comfort me through friends and family who listened to my endless rationales, trying to make sense of my reality and what I needed to do next. He increased my understanding of the principles of forgiveness, charity, and prayer as I searched for answers on how I could move forward. He provided opportunities for me to serve so I could lose myself in the service of others.
As I poured my heart out in prayer to Him every day, I found strength knowing that He knew the blessing that I desired the most—to raise a righteous family with a man after His own heart.
I met that man many months after and married him a year later. In the short period of our courtship, he showed me a love that's "patient [and] kind, [a love that] does not envy, [nor] boast, [a love that] is not proud [and] does not dishonor others. [A love that] is not self-seeking, not easily angered, [and] keeps no record of wrongs. [A] love [that] does not delight in evil but rejoices with the truth. [A love that] always protects, always trusts, always hopes, always perseveres."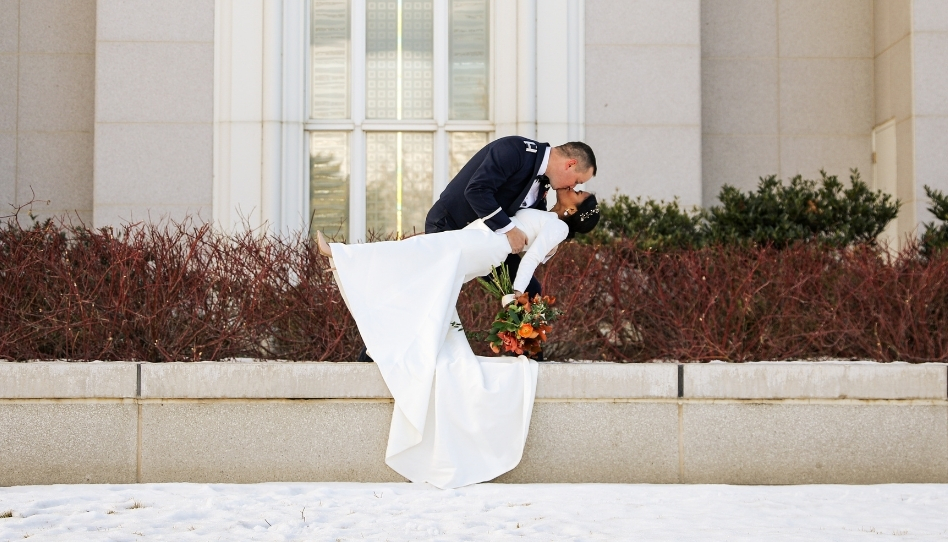 I once asked the Lord why He let me suffer such a painful heartbreak when I had been faithful all my life, doing my best to live up to my potential. But as I got to know my husband during our courtship, I realized that the answer to my question was because the Lord wanted me to find a love like His—ever considerate, selfless, forgiving, and merciful.
I don't believe that my husband and I are destined to be together. But I know that we did not meet by chance either. Although our individual choices were a big part of it all, I know that the Lord was in the details of our love story through a series of personal revelations, the support of family and friends, and the seemingly impossible occurrences that, without a doubt, were only made possible because of Him.
We've been married for seven months now. Some may think that it's too short to end this story with "they lived happily ever after" but we are both striving each day to be worthy of the Lord's promise that "whatsoever [is bound] on earth shall be bound in heaven."
When heartbreaks come, as they do in all of our lives, the Lord understands perfectly our pain and struggle, but He can also help us to move past it, hour by hour, and day by day. As we go forward in faith, doing our best to keep the Lord in our lives, serving others, living righteously, and seeking for His help, He will open doors that we didn't even know were there. He can help us to heal, and guide us toward "happily-ever-after's" that we can't even see yet. Above everything, remember that He loves you, sees the end from the beginning, and truly desires your eternal happiness.